Cooling for cold storage
The depreciation of goods in cold storage is a common problem. It occurs because the air in the cold store is very dry and so draws moisture from the goods themselves. The problem is easily solved by using humidification.
Preserve the value of chilled produce with the correct humidity
CAPACITY
Almost all goods that require chilling also contain moisture. If the air in the cold store or refrigerated unit is too dry the air will absorb the moisture from the goods, drying them out. This can be prevented by keeping the air at the correct humidity. This stops the goods from drying out and thereby they retain their value.
Reduce weight loss

Extend the shelf-life

Minimal to no reduction in quality
"Our systems produce such a fine mist that the whole storage area can be humidified without the goods getting wet."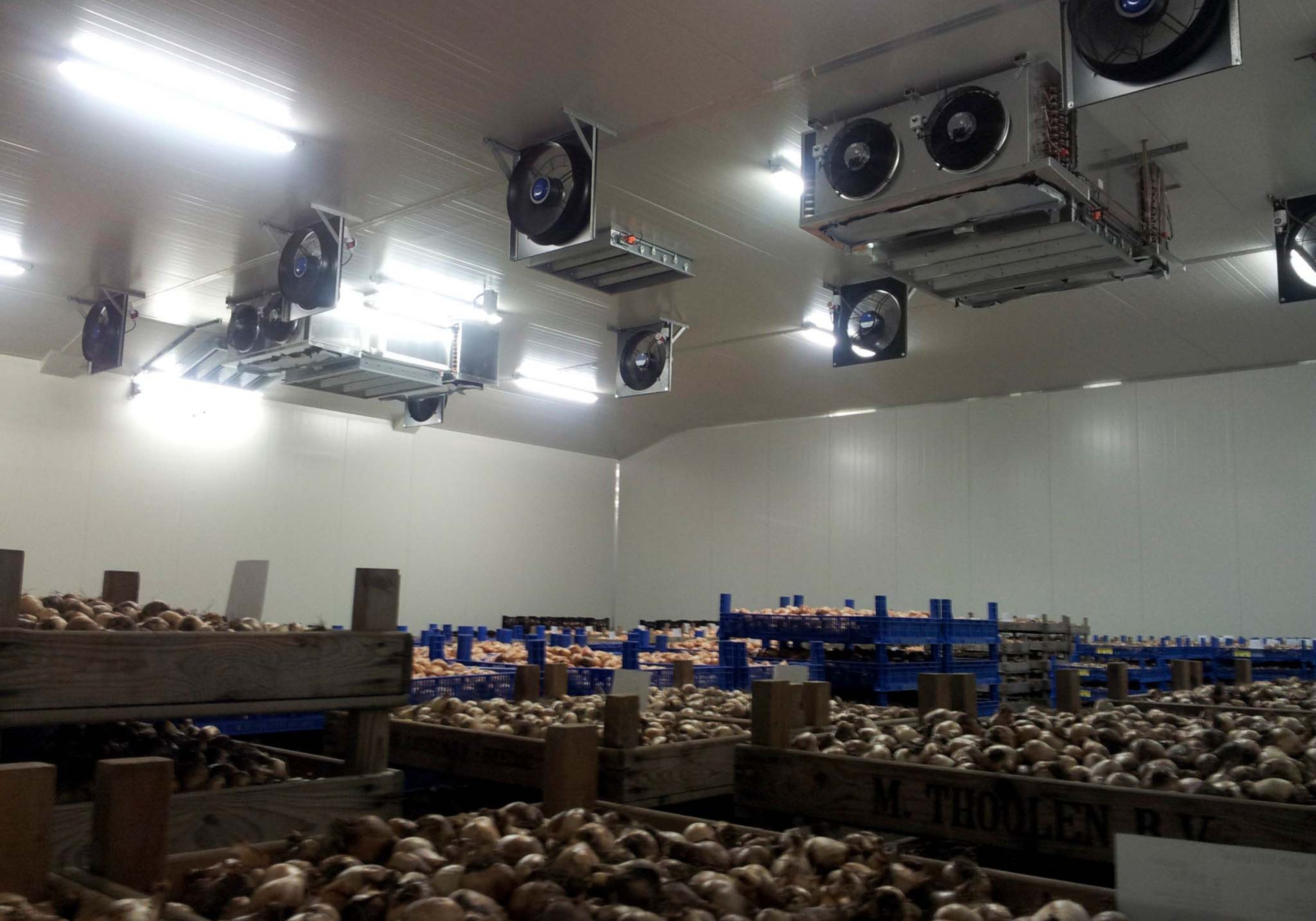 Lower energy bills included!
COMFORT
Our experts advise using adiabatic humidification in cold stores. This is a form of humidification that uses cold water, whereby the air temperature cools as the moisture content rises. This is a free energy saving for the cooling system of 0.68 KW per litre of water.
Trust in our capabilities
CONFIDENCE
In many cold stores the value of the goods in leaking away. As Dutch market leader in custom-built humidification systems we have plugged those leaks for more than 2,000 clients since 1991.
Our experts co-wrote ISSO 55.3 (the guidelines for Legionella safe installations)
All our installations comply with the ISSO 55.3 Publication guidelines
TÜV Nord have certified that our installation systems comply with VDI 6022
We meet the guidelines as outlined in the TNO Hospital Report
Extensive maintenance network
For free advice on safe, energy-saving humidification systems, tailor-made for your business, contact us here.
Our clients expect a consistent quality. With a Cumulus humidification system I can provide that. It is an affordable system that works perfectly. It's the best on the market!
Thanks to Cumulus' flexible lease options our presses can run at full throttle. Fewer production stops, a consistent quality, and a stable process ensure a better return.
Flour dust allergies are a very common problem in the bakery branch. Cumulus humidification reduces flour dust and creates a healthier and more comfortable indoor climate.
Wood is sensitive to moisture levels. It shrinks, warps, and cracks. A Cumulus installation creates a stable humidity. That is essential for our production process and our KOMO certification.
We don't need static electricity as part of our production process. Cumulus humidification reduces the fire risk and helps our production process run more smoothly.